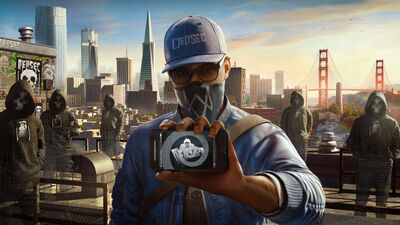 The following is the soundtrack for Watch Dogs 2. This includes both in-game music and music from various promotional material.
Radio Stations
[
]
Official Soundtrack
[
]
These tracks are officially part of the game soundtrack.
DedSec Soundtrack
[
]
This soundtrack can be found and purchased here.
Shanghaied
Burning Desire (Hacker)
W4tched (Cinema)
Haum Sweet Haum
Cyber Driver
Amethyst
Play N Go
Eye For An Eye (Reprise)
Cyber Driver (Opera)
Citrus
Balance
Burning Desire
Eye For An Eye
Robot (Finale)
Watch Dogs Theme
The Motherload
Other Audio
[
]
This audio includes content featured in trailers, gameplay features, and other promotional material.
| Song | Artist | When the game uses it | Link |
| --- | --- | --- | --- |
| Cerebral | Boys Noize & Pilo | | Link |
| Spaz | N.E.R.D. | | Link |
| Don't Sweat the Technique | Erik B. and Rakim | | Link |
| Close Your Eyes And Count To Fuck feat. Zack De La Rocha | Run The Jewels | | Link |
| Crimewave | Crystal Castles | | Link |
| Paranoid (feat B.o.B) | Ty Dolla $ign, B.o.B | | Link |
| Aerosol Can (feat. Pharrell Williams) | Major Lazer | | Link |
| Why So Serious? | Bibio Olivier St. Louis | | Link |
| Serenade in G, K.525 "Eine kleine Nachtmusik" | Wolfgang Amadeus Mozart | | Link |
| Soup is Good Food | Dead Kennedys | | Link |
| Los Feligreses | Jungle Fire | | Link |
| Uptown Anthem | Naughty By Nature | | Link |
| Kill the Rich | Anti-Flag | | Link |
| Northern Lights | Kate Boy | | Link |
| Blockbuster Night Part 1 | Run The Jewels | | Link |
| Lively Up Yourself | Bob Marley & The Wailers | | Link |
| Krishna Punk | Gonjasufi | | [ Link] |
| Piano Concerto No. 1 in B-Flat Minor | Pyotr Ilyich Tchaikovsky | | Link |
| Leave It Alone | NOFX | | Link |
| Get Stupid | Mac Dre | | Link |
| Wrong Way | Sublime | | Link |
| Planet Earth – 2010 Remastered Version | Duran Duran | | Link |
| Rosa Parks | OutKast | | Link |
| Attak (feat. Danny Brown) | Rustie, Danny Brown | | Link |
| Journey to the End of the East Bay | Rancid | | Link |
| All the Things | Dual Core | | |
| Star Sky (Instrumental) | Two Steps From Hell | Sailboat race | Link |
Playlist
[
]