---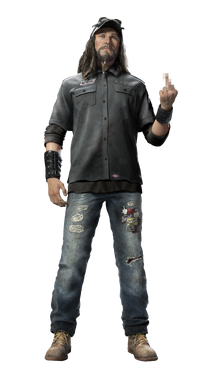 ---
---

Raymond "T-Bone" Kenney is a character in Watch Dogs and Watch Dogs 2, and is the former chief architect of the ctOS suite for Blume Corporation.
Summary
[
]
Raymond Kenney is an infamous hacker responsible for a 2003 Northeastern blackout that resulted in 11 death and thousands of injuries. He did this by recognizing a vulnerability in the transmission station control room and uploading a virus; this virus overloaded and then shut down the grid.
Though reports suggested he carried out this attack due to being disgruntled, the reasons for his disgruntlement is unknown. State psychiatric tests suggest late stage dementia as a major factor in his anger and disgruntled state.
Watch Dogs
[
]
Before the events of Watch Dogs, Kenney was hired on to make ctOS, as he was familiar with many security systems it would eventually rely on. After working in Blume for some time, and seeing what BLume was intending on doing with the ctOS, he became a whistleblower, leaking information to the public about the system. As reward for this, Blume forcibly inserted an implant into his head that would alert the ctOS whenever he was near a node. Kenney, filled with regret over the system he crafted and its implications in controlling the government, corporations, and people, retreated into obscurity.
As part of his regret over the system and fear of its implications were it to be abused, Kenney became extremely paranoid over Blume. He recorded his various musings and distrust on audilogs that he hid deep in the ctOS mainframe, which would only be discovered much later when Angela Balik was hired on. Blume fired Kenney because of his objections and his outspoken efforts to nullify what he saw as the many threats of such a huge system. Kenney soon moved from objections to active resistance, and hacked the power grid in 2003, causing the great North East Blackout in an attempt to demonstrate the dangers of such a system.
The blackout, while effectively showing the dangers, resulted in the accidental deaths of eleven people, causing Kenny to spiral further into his depression and paranoia. He retreated even further, going "off the grid" to hide from the authorities who were now actively pursuing him. He soon became an alcoholic. Despite the deaths caused by his hack, he was soon revered in the hacking community for his resistance against Blume.
Aiden Pearce
[
]
As part of his plan for revenge, Aiden eventually discovered Kenney hiding in the Chicago countryside. Aiden convinced him that he had to hack ctOS, uploading a virus that erased all mentions of him in the ctOS system. As retaliation, Damien Brenks gave Kenney's locations to Blume, who sent security contractors to take him out. Kenney bombed his house to hide any evidence of his involvement, and Aiden helped relocate him to the Bunker, a converted former ctOS site. Here, Aiden enlisted Kenney's help in decrypting data in return for his sister. Though they were successful in retrieving the data, it was soon stolen by Defalt, an opposition Hacker. Defalt exposed Clara Lille, and agents came after Aiden in an attempted hit.
Kenny went to Defalt's apartment, having lifted its location during the data theft. After retrieving a circuit board, he narrowly escapes a mob of Fixers with Aiden's help. Kenney then directs Aiden to Dot ConneXion, a night club and art gallery where Defalt is working as a DJ. Aiden chases down Defalt as Kenny steals back the data, and during the process, collects a huge amount of blackmail data that Defalt had been collecting. Aiden rescues his sister and nephew, and arranges for them to leave the city. Kenney discovers that Lucky Quinn had ordered the hit, and Aiden tracks him down, killing him. During this, Clara is killed. Kenney gives Aiden the blackmail data, and begins to pack up, knowing the havoc it would cause when released.
Tobias Frewer
[
]
After leaving Chicago, Kenney is alerted that Tobias Frewer has been kidnapped and stuffed into a truck. After rescuing Frewer, he realizes that the Fixers are likely also coming after him. During his investigation, he discovers Defalt is behind the hits, and begins looking for him. He infects Defalt's laptop, and Kenney sneaks into the building to find Defalt. Inside the building, Kenney finds mannequins for the people that died because of the blackout he caused, and finds an empty room playing footage from the event. He finds out during this that Defalt's brother was one of the people who died during that blackout. Fixers are sent in to kill him, but Kenney barely escapes.
Kenney returns to the Silo to wait for Defalt, and defends against the Fixers. They find the new location Defalt is hiding at, and makes their way to the location. Inside, they find Defalt, along with other people whose family died due to the blackout. Kenney convinces a few of them to forgive him, and they turn off their screens, but Defalt floods the room with gas. Frewer uses his phone to hack the systems and vent the room into Defalt's room, killing him immediately.
Kenney agrees to stay in Chicago with Frewer, as Frewer notes he wants to take down Blume.
Watch Dogs 2
[
]
T-Bone was shown in the story trailer to be working with DedSec in San Francisco.
T-Bone gets to know Dedsec after Marcus wins the hacking contest Ray was helding on the Swelter Skelter festival. After that, he reveals to Marcus the existence of the Bellwether project, which is a "Orwell-Huxley doublepunch": "mass surveillance, consumerism and corporate culture, all driven by predictive algorithms". On the next morning, Marcus and Kenney find themselves recovering from the psychodelics and fleeing the festival grounds overrun by a biker gang. Ray joins the group and scrubs Marcus from the system, making him anonymous.
Grady helps Dedsec to access Blume satellite backbone, warns Wrench about doing dangerous tricks with the power grid, actively messes with Blume activities and finally, confronts Nemec in his apartment together with Marcus.
Gallery
[
]